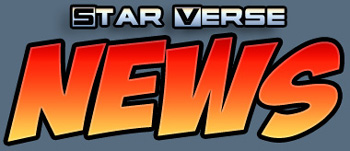 WELCOME! In this page, we will give you the Star Verse NEWS! If there is something NEW that is going on ... if there is someone new beging Hired ... anything like that ... you will Find out about it here ... FIRST!

SeajayVentures (Red Lion Publications) and Star Verse Comics Team Up for Project!
Feb. 1/2011

Jonathan "A" Gilbert of SeajayVentures (the creative arm of Red Lion Publications) and Ryan Crouse of Star Verse Comics are pleased to announce that they will be teaming up to publish a two-issue limited series that will feature the pencils of up and coming talent David Johnson Jr.
Set in the universe of Mr. Crouse's Tech Storm character the tale will take place between issues one and two of TechStorm: Rages of War.
"We don't want to give away too much info as yet but the storyline will involve Ryan's Tech Storm characters, a hero called Swift Star and my Destiny character" states Mr. Gilbert. "And as an added bonus we will bringing Destiny back in his original uniform as designed by Lloyd Smith, publisher of the gone but still much loved Blue Moon Comics Group".
For more information on Star Verse Comics you can visit http://www.starverse.ca . Jonathan "A" Gilbert has worked in the comics industry since 1989 and is currently writing a blog at www.dispatchesfromthegreatwhitenorth.blogspot.com .

STAR VERSE COMICS becomes 10 YEARS OLD!
June 3

Yes! A very satisfying accomplishment for Star Verse Comics and I that happened on June 3/09! I guess with that said, I want to thank EVERYONE that has supported Star Verse Comics over the past 10 Years, and I will begin to look forward to the NEXT 10 ... THANK YOU!

So ... WHAT'S NEXT?
I do have a few different things planned for the next short while, but I just don't know which one will come before the next! 1st off, I am planned of giving the Star Verse Comics website a WHOLE NEW Face Lift! Secondly, I am "sort of" in the planning stages of what my next 2 titles will be. I currently have plans for a HERO vs. VILLAIN #2 (the comedy based loosely in Yorkton) - that title will feature a couple new characters, one of them being "CAPTAIN SOY!" I also have plans for either a DONAR: God Of War #3 and also CLOCK WAR: REBIRTH #1 (featuring the META FORCE vs. Dr. Clock) ... Stay tuned to find out :)


Infinity Uprising Studios Release new title - Ryan Crouse did the Inks for NINJA HEX ...


Infinity Uprising Studios has Released another Great comic title, and Ryan Crouse was involved in the Inking! The comic is called "INFINITE PREVIEWS #2" and features 2 seperate Comics in One! The Origin of Mr. Metro & Ninja Hex. I had the Honors of doing all the Inks for the Ninja Hex comic, and am now working on an Up-Coming title "THE PASSAGE #2." If you would like to see Preview pages or to ORDER the comic, please head Here!


Ryan Recieves 3 Honorable Mentioned Awards & 1 First Place by the PCBN ...


That's right! With Great excitment, I recieved my 3 Honorable Mentioned (Runner ups) awards (Tribute to Hanna-Barbera Cartoons, No. 81 / Star Verse Comic On-Line & Best Cover, No. 91). I also recieved my 1st Place Trophie for Best Fan Art, Space Ghost. These awards are done annually from the People's Comic Book Newsletter or PCBN and Jazma Online. Thanks to everyone who voted for me and my work! Now, lets get started on the new year!


CALDER, Saskatchewan, Canada had it's CENTINNIAL ...


Along with all the excitement of the 100 Year Celebration, Calder had over 2000 people show up for this festive occasion. There was the Showing of the Murals, that is where my HERO pic. was shown along with other great artists. There was also a Parade, games, Supper and later a dance. Here now is the Mural of my character "Hero" that I made. Note: This was done on a large 4x4 piece of wood, with a couple layers of primer. I did the whole image with my Winsor & Newton Series 7, Size #2 Sable brush, and alot of Ink. (Background was done with acrylic paint). Here it is ...


HERO of the Calder Centinnial


I, RYAN CROUSE will have ART SHOWCASED for SASKATCHEWAN CENTENNIAL


Very BIG news for me last week as I recieved a call from a previous school teacher who is assisting with the setup of the CALDER CENTENNIAL. She seen my art online throuh a serch engine, enjoyed what she seen, and then gave me a call. I am doing a 4 foot by 4 foot pencil/inking of my character "Hero," as he poses infront of the Calder Town Hall. I am very excitied about this project, and I will be posting the final results for you all to see when it's completed.


STAR VERSE COMICS are NOW ACCEPTING ... TRADES!


That's Correct! After nearly 2 years of other indie/small press comics and creators asking me if I will take trades, now it will be Happening! The 2 comic titles that I am putting up in the TRADE section is DONAR: God Of War #1 & HERO vs. VILLAIN #1! When you send me a TRADE please indicate somewhere that you want it for a Trade, and let me know which of the 2 titles you want in return. Also, as an Added BONUS, All the titles that get sent to me, I will be Reviewing for my Star Verse Reviews Column.


Ryan on CTV ...


Ryan Crouse of Star Verse Comics finally gets some Local Exposure in the surrounding areas of Regina and Yorkton as CTV Yorkton (CICC) came and did an interview with him about his comic books and his inking. It was played on "News at Noon" (Thurs. July 29/04) and the Weekend News (Sat. July 31)


"DONAR: God Of War #2" IN IT'S FINAL STAGE ...


Star Verse Comics' most antisipated title (the Viewer voted for it), and the 2nd part to our best seller is on it's way to being finished! I have a few odds and ends to capitalize on, and once the cover is done - DONAR: God Of War #2 will be out for SALE!


WHAT'S to COME in the FOLLOWING MONTHS?


Well, as the sales for Tech Storm #1 are still doing good, I am almost finished the rough draft version of DONAR: God Of War #2 (page 24), and I must say that the story line takes a mighty twist within this title. The absloute second that I am finished the rough draft, I will be posting a few pics on the net and then begin the good copy.
As I am working on Donar #2, I am also in the myst of creating a new "Fantasy/Comedic" title called "The Adventures of Carl". I really don't want to say much about it as of this moment, in more will be revealed in weeks/months to come.


STAR VERSE COMICS has 1ST EVER SALE ...


This is Right! Since late '98 my prices have stayed the same, but ever since I sold over 60 Copies of DONAR: God Of War #1, I have decided to put it on Sale! The original prices were $3.50 CAN/$3.00 US (Including Shipping/Handling of course - which I have been told is Not too Bad.) But now, Donar #1 is $2.75 CAN/$2.25 US. I would also like to Thank all the people have gave given Star Verse Comics a Chance!


RYAN CROUSE in another INTERVIEW ...


Just a couple days ago James Taylor, the Publisher and Editor-in-Chief of the Small Press Magazine contacted me for an interview. I thought that it went over great, and shortly he will be Reviewing Donar: God Of War #1 (I will keep you posted on when it happens). Anyways, to read the interview head over HERE!


Polls are a Sucess! Next Title announced ...


This site just keeps on getting more hits! If you noticed on the past Polls, we went from 157 to 200 votes on the Polls! Now that the new Poll is up, Star Verse Comics will like to announce that the next title to be released because You voted for it ... DONAR: God Of War #2!


STAR VERSE COMICS ARTICLE NOW GETS INTO THE "WESTERN PRODUCER" ...


Yes, that is Right! The same Article that Calvin Daniels did for Yorkton This Week has now been Published into the Western Producer!


FEEDBACK on TEACHING at COLUMBIA SCHOOL ...


Around 12:40 pm. on Friday October 19, I drove into the parking lot, out of the car and entered Columbia School. I really didn't have a Clue as to where I was going, but moments later, a Teacher came up to me and already figured out who I was. She took me to my room as we bacically got everything ready for the classes. The first class had 10 students and a Teacher as the second had 6-7 and a teacher (1 hour each - the kids were ranging between the graded of grade 6-8). I started off by Introducing myself and gave about a minute or 2 history about Star Verse Comics. I then began by showing the kids and teachers eyes, nose and mouthes on the chalk board as they followed. Keep in mind that I had brought a couple comic art book with me to help me on the way as well ;). Anyways, after that we worked on a face and then I showed them character creations using a line and then the Marvel Way Blocks. After that we Fleshed it out and created a character. After that, while they were trying new things, I did a couple more samples on the board. For the final 10 minutes or so of the class, I answered questions. I would like to Thank the Principal for Columbia School for giving me a chance to teach the fine kids comic art as it was a Lot of Fun and I would totally do it again!


I "Ryan Crouse" FINALLY GAIN LOCAL EXPOSURE ...


First of all, One of the Local Yorkton schools phoned me on Wednesday. They told me that on October 19th, they are having their Yearly Education Week where they teach wood working, art, painting, electrical things and so on. Anyways she (the teacher) told me that the kids (grade 7 & 8) were asking her if she could get the Comic Artist from the Newspaper - so she called me up! Of course I said Yes! I will be doing Two "1 Hour lessons" on Comic Art. Pretty Cool Eh? I am Excited and Nervous at the same time. I figure I would start off by telling them about me, and then the article & Star Verse Comics. I was also thinking of getting them to do some sort of sketching. (character creating) with resources from a few of my art books!


STAR VERSE COMICS GETS INTERVIEWED BY "YORKTON THIS WEEK" ...


Yes, that is Right! Star Verse Comics is finally in the News Papers, and boy am I excited about it! You can read the article HERE!


STAR VERSE COMICS GETS BACK ON-LINE ...


Well, You may of relized that this site hasn't been updated in Quite some time. The reason is simple, Sasktel (our CHEAP - with 20.4 connection Tops!) Internet/Phone/Power Company decided to put a Block on our line and it Shut us Off Totally! After 4 1/2 weeks of Complaining, they said it was Our Computer. We then phoned Image Cabe (ran from 2 1/2's away - Sasktel is 1/2.) and they threw up a 50 foot Tower and gave us High Speed Internet, and here I am to Tell the Tale!


TECH STORM: "RAGES OF WAR" Begins ...


The next 2 Star Verse Comics will be called Tech Storm: Rages of War. It will be a SCI-FI based 2 part series as the rough copy for the first onre is 2 pages away from Completion. Possibly begining next week, a few of those pics. from the rough stage will be showing up.


HERO vs. VILLAIN is On Sale Now!


The wait is Finally Over! Hero vs. Villain #1 is for Sale and at a great Price! This comic is 24 pages long and for the price Details, head over to the Order-Online section! To find out more Info on the title, head over to Comic Titles and then Hero vs. Villain.


HERO vs. VILLAIN Finalized!


That is Right! The 3rd comic by Star Verse Comics is at it's Final Stage! There is just One Advertisment that we are waiting for, and then we are going to Print it to Sell!


DONAR: God Of War #1 gets REVIEWED & Ryan Crouse gets Interviewed ...


And a Good review at that! I sent a copy of Donar to Paul Dale Robert of Jazma On-Line & the People's Comic Book Newsletter, and he gave Donar a Great review! You can read it by heading to their site, and clicking on the Review button. My Interview may be read by heading over Here!


DONAR: God Of War #1 goes on Sale ...


This is 100% Correct! Expectancy is High for thic comic as I put alot of work into it. Donar will be sold at "Tramps: Books & Music" in Regina & Saskatoon, Star Time Video in Bredenbury, on the Net and all around the Yorkton area. If you own a store, and would like to Sell this or any Star Verse Comic, please give me an E-mail!


"HERO vs. VILLAIN" begins ...


"Hero vs. Villain" is the newest comic we are working on. It is set up in a comical style, features Hero, an the hero and Villain, as the Villain! There also is a special guest appearence by Betty the Beast!

Currently, the project in is the ruff copy stage, but is going fast! We are on page 18 as we type!


Star Verse Comics plans next 4 Comics ...


Yes, that is correct! Star Verse Comics may not yet be a Comic Company that is well known, but hey - it looks like we are on the right path! At the moment, Donar: God Of War is in it's final 2 pages of Completion. But, what happens after Donar?

Under current construction, the next Star Verse Comic is planned to be a Comedy called "Hero vs. Villain." At this moment, we are not saying alot about it except for the Fact that it is planned to be a comedy!

Ok, that's one title. Title #2 and 3 is scheduled to be a 2 Part Series called "Tech Storm." Tech Storm, formerly known as Star Verse character Metal Storm, will be a Sci-Fi adventure! More about this title will be given, when the time is right.

Finally, the 4th title is planned to be called "Star Verse Comics Presents." Each comic will feature a different Star Verse character and story. With this comic, we hope to get the reader to reconize and become more Familular with our charatcers.


DONAR: God Of War cover is Penciled ...


The cover to Donar: God Of War is finally Penciled! Paul D. Candelaria is a very Tallented artist, and will soon be doing the Inking to the cover as well! Boy, wait until you see his Incredible Cross-Hatching abitilies! He is Great!
To see the Cover, click HERE! To find out more information about Paul D. Candelaria, head over to our Staff section - found on the Main Page!



NEW BANNERS ...


Star Verse Comics has now recieved 2 new Banners. The first one is for Advertising the Clock War comic on sale, and the other is to advertise that Donar: God of War will be out soon! We have deals with a couple of web sites so far, and hopefully will be getting more as time goes on.
CLOCK WAR
DONAR: God Of War


PAUL CANDELARIA joins Star Verse's Creative Team ...


Paul D. Candelaria, whom is a great artist and inker (expecially when it comes to detailing and cross hatching) has agreed to do the cover for Donar: God Of War #1. For more information on Paul C, go to the staff page.

SWIFTSTAR #1 gets CANCELED - for NOW ...


Swiftstar #1, which was planning to be a 4 Part mini-series has now been put on hold! Jon Gilbert, the writer of the comic has been hired by Mad Scientist Magazine, and didn't have enough time to work on Swiftstar.