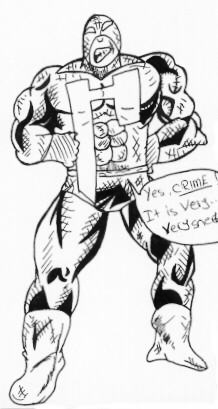 St.- 2 // Sp.- 2 // Sta.- 3 // Ag.- 3 // Int.- 2 // Dur.- 3
Hero is the new protector of his "chosen" city ... Yorkton, Saskatchewan, Canada! It is full of beauty and Peace! But, in some of the Dark corners lurks to what Hero fears and dislikes the most ... Evil!
Hero is the Man of Might that will stop Yorkton's Evil!
If you have any Questions, E-mail STAR VERSE COMICS