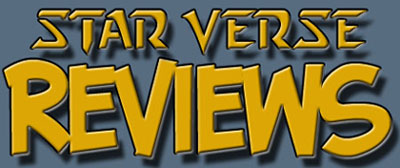 STAR VERSE COMICS PRESENTS ...
RYAN'S REVIEWS
Issue #1
September 2002
Title:
Archeon #1
Publisher:
Xane Comics
Web Site:
Xane Comics
Written by:
Jon Hook & Ed Lavallee
Drawn/Inked by:
Wayne Nichols
Price:
$2.95 US
Comments:
At first appearence, it looks like one of the best small press comics made. Upon opening and reading it, that statement stays the same. Archeon #1 offered all it said it will and more. I love the Fantasy aspects, and the art is very well done. If you are a Fan of anything Fantasy and love great stories and wonderful art, this title is a Must for your collection!
SCORE:




(out of 5)

Title: Oz Some Comics Presents #1
Contact: artistkenney@aol.com
Written/Drawn by: Kenney McCulloch
Price: $ cheap (will trade titles)
Comments: This is a different but Interesting comic, oh and did I mention that it is absolutely funny! It is a comedic title about Solar Duck, and one of his adventures. You almost can say that you see it all in this title. There is a mockery of the Batcave, a hilarious business card scene and a pathetic villain that goes by the name of Flasharoo. One thing that really impressed me was the incredible detail Kenney put into the scenes on the water dock.
SCORE:





Title: Fictions #1
Publisher: Brass Ring Comics
Contact: BrssRngCmx@aol.com
Written by: Johnny Lowe
Art by: Seaward Tuthill, Richard Garcia, Tony Brescini
Price: $2.50 US
Comments: At 32 great and interesting pages, this comic simply delivers and then some! This comic holds 3 short stories and are drawn and inked very well. The first story was my favorite. It's a little creepy and makes you wonder about things at the end. Without giving anything away, it involves aliens. The next story is about a slacker and his comedic day looking for $7. After being fired from his job he has one adventurous day leading to monsterous criminals, a big breasted crime fighter lady and 5 Sailor Moon Wanna be's. The final story "When Father's Day Comes" is a truely great story. It has family love, rage, suspence and bravery all thrown into one with an ending that makes you want more! Over all, I got hooked on this book and I will probally by the next issue when it comes out. Anyone who enjoys a a good read and good art will like Fictions #1.
SCORE:




1/5
-- CD REVIEWS --

Title: IRON MAIDEN "Rock In Rio"
Band: Bruce Dickinson (Vocals), Dave Murray, Adrian Smith, Janick Gers (Lead & Rhythm Guitars), Steve Harris (Bass), Nicko McBrain (Drums)
Web Site: Iron Maiden
Comments: After 2000 when Maiden Reunited with the Local Legacy of Bruce Dickinson and made "Brave New World," Iron Maiden comes out with another Live CD, this time infront of 250 000 screaming fans in Rio, Brazil. I was really impressed with this CD as Iron Maiden is one of the few bands left who can sound better live then in a recording studio. You can tell the Band members were pumped for this CD as well as it is some of Nicko McBrain's best live work I have heard and the 3 leads along with Steve Smith's Bass were also great! In this 2 CD pack, you will hear some of there best songs such as Fear of the Dark, The Wicker Man, The Trooper, Hallowed by thy Name, Run to the Hills and more. But, as an added bonus in this pack that runs at around 2 hours, are 2 enhanced videos. The first being a video of Brave New World and the second called "A Day In The Life" as it's a look at one of their days before a show. Overall, if you like Rock, Metal and Energetic Music, you will Love this CD, and oh yea ... Up The Irons!
SCORE:






Title: FOZZY "Happenstance"
Band: Moongoose McQueen (WWE's Chris Jericho - Vocals), Duke Larue (Lead Guitar & Background Vocals), KK Laflame (Drums), The Kidd (Guitars), Clause Watson (Bass Guitar), Lord Edgar Bayden Powell (Special Guest - Guitar)
Web Site: Fozzy
Comments: As I open this CD, the first thing I see is a Guitar pick that falls out saying Fozzy "We Are Huge Rock Stars." I was quite impressed with this CD as they sing some of the greats like To Kill A Stranger, Happenstance, Freewheel Burning and Where Eagles Dare. The Overall feel of the CD is quite powerful but I felt that their first release self-entitled "Fozzy" was a little more Metal.
SCORE:



1/2

Title: DEF LEPARD "X"
Band: Joe Elliott (Lead Vocals), Ric Savage (Bass Guitar & Vocals), Rick Allen (Drums), Vivian Campbell (Guitar & Vocals), Phil Collen (Guitar & Vocals)
Web Site: Def Lepard
Comments: To be honest, I bought this CD for one song titled "Now," which I think is a great song. But after listening to the CD a couple of times, I began to fall under its spell. This is a well packed CD with many great songs with Del Lepard doing what they do best! There are many great and catchy songs in this album such as Now, Scar, Unbelievable and Let Me Be The One which I think sounds very cool and old school. If you enjoy Def Lepard, the music from the '80s or just easy listening music, you should enjoy this CD.
SCORE:





Title: BON JOVI "Bounce"
Band: Jon Bon Jovi (Vocals), Richie Sambora (Guitars, Backing Vocals), David Bryan (Keyboards), Tico Torres (Drums, Percussion), Hugh McDonald (Bass Guitar)
Web Site: Bon Jovi
Comments: Much like Iron Maiden, Bon Jovi made it back on tom in 2000 with their album "Crush" and the single "It's My Life." Now Bon Jovi comes out with Bounce. This CD is different from most of his music as he went more Rock in this album. Never the less, I did enjoy this CD with some great songs such as Everyday, Undivided, Bounce and The Distance.
SCORE:





If you have any Questions or Comments, Let me Know!