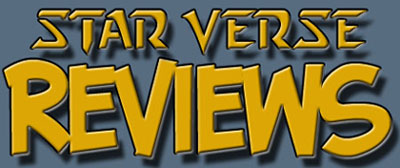 STAR VERSE COMICS PRESENTS ...
RYAN'S REVIEWS
Issue #2
April 2003
Title:
Mortal Coils #1
Publisher:
Red Eye Press
Web Site:
Red Eye Press
Written by:
A. David Lewis
Art by:
Evan Quiring, Jason Copland, Darren Merinuk, Dan Cooney
Price:
$2.50 US / $4.25 CAN
Comments:
Within this comic book is 2 short stories, "Disembodiment" and "Deeper Blue." Disembodiment, at first wasn't doing much for me, but as I read on, and then got to the end, I really thought it turned out well with the sad ending (No Spoiler Here!). Deeper Blue, was much of a different story, more along the lines of Sci-Fi. I must say that Artist/Inker Jason Copland did a great job on this piece. I love his style of cross hatching, his shading technique and his detail work is quite pro by my books. I would basically recomend this book to anyone who enjoys a good read with great work at a reasonable price!
SCORE:




1/2
(out of 5)

Title: Necromorpha (Feb. 2002 - Insert)
Publisher: Phoenix APA (Magazine)
Web Site: Phonex APA
Comic by: Earl Oxford
Comments: I found this to be a neat and silly little comic. Dont get me wrong though, Earl has a great talent with the artwork. I love the Mangaish styling look he used and I also enjoyed looking at his inking detailing work. The printing job itself was a little scratchy as he does explain that it was printed on his 1996 Officejet 1150c.
SCORE:



1/2

Title: Phoenix APA (Magazine)
Web Site: Phonex APA
Comments: The Phoenix APA Magazine features information and articles on topics such as comics, science fiction, writing, drawing and popular culture. (There are also reviews on Comic Books, Music, Movies and more.) If you are an Amature Artist or own your own Small-Press comic book or anything in that field, this magazine may help you get off the ground with it's great information.
SCORE:




Title: Fictions #2
Publisher: Brass Ring Comics
Contact: BrssRngCmx@aol.com
Written by: Johnny Lowe
Art by: Seaward Tuthill, Ted Seko, Ellen Linder
Price: $2.50 US
Comments: Brass Ring Comics do another great job with Fictions #2. There is 32 adventurous pages with 3 short stories. All with a totally different twist that will make you think twice before doing certain things. The first story ("Birthday Boy") is about a boyfriend & girlfriend sneeking into an elderly couple's house to get come cash. Boy, do they ever find a treasure, but it isn't what they expected, not at all. The next story ("A Glorious Future can be Yours") is an interesting one at that, and just when you think that it is finished, it only just begins with a Planet of the Apes style. The final story, "Nibbler's Night" is one that reminds me of an episode of the Twilight Zone. Not alot happens in it, but it is the way it happens. I recommend this comic to anyone who enjoys a good story with unique and unexpecting endings.
SCORE:





Title: Cartoon Network Presents: Space Ghost "Coast to Coast" #15
Publisher: DC Comics
Web Site: Space Ghost - Adult Swim
Written by: Will Pfeifer
Drawn/Inked by: Robert Pope, Dan Davis
Price: $2.25 US / $3.75
Comments: Space Ghost, a cartoon character from the '60s and 70's is at it for another shot, but this time with his own Talk Show. Based on the cartoons by Cartoon Network (seen at night on Adult Swim), this comic is one that is anything but serious. It is a humerious and entertaining little comic.
SCORE:




-- CD REVIEWS --

Title: Tobias Sammet's AVANTASIA "The Metal Opera"
Band: Tobias Sammet, Ernie, Kai Hansen, David DeFeis, Andre Matos, OLiver Hartmann, Sharon Den Adel, Rob Rock, Ralf Zdiarstek, Timo Tol
Web Site: Avantasia
Comments: Avantasia has the Vocal Power of Tobias Sammet from Edguy, Kai Hanson from Gamma Ray, Timo Tolkki from Stratovarius, David DeFeis from Virgin Steele, Rob Rock from Warrior, Andre Matos from Angra, and Sharon Den Adel from Within Temptation. Avantasia is a Eurpoean Metal/Opera Orchestrated band with some of the most amasing music that you will ever hear. Within the CD there are many greats, but a few that stuck out of the 13 songs for me were "The Glory of Rome," "Avantasia," "Farwell" and "The Tower." The music on this CD is too magical to explain in text, I say just go out and give it a try. SCORE:






Title: IRON MAIDEN "Seventh Son of a Seventh Son" (Enhanced CD)
Band: Bruce Dickinson (Vocals), Dave Murray, Adrian Smith (Lead & Rhythm Guitars), Steve Harris (Bass), Nicko McBrain (Drums)
Web Site: Iron Maiden
Comments: Iron Maiden, who has been called the Godfather of Heavy Metal has Digitaly Remastered all their CD's. As I just reciently got into them, I picked up this CD and loved it. This CD has classics such as "Seventh Son of a Seventh Son," "Can I Play With Madness," and "Only The Good Die Young." With this enhanced CD you get more then just a better quality sound. If you pop the baby into your computer, it has 4 High Quality videos (Can I Play With Madness, The Evil That Men Do, The Clairvoyant & Infinite Dreams). So you all you Maiden Fans out there, this is a Must for your Collection - Oh, once you get all the enhanced CD's, and place them side by side, it makes the Killer's Cover.
SCORE:






Title: HELLOWEEN "Treasure Chest"
Band: Ken Hansen (Vocals, Guitars), Michael Weikath (Vocals/Guitars), Roland Grapow (Guitars), Markus GroBkopf (Bass), Ingo Schwichtenberg (Drums)
Web Site: Helloween
Comments: This is the Ultimate Helloween Collection CD as it has 2 CD's and 29 of their greatest hits which add up to over 2 1/2 hours of Melodic Speed Metal. Within the Treasure Chest, you can hear some of the great tunes such as "Where the Rain Grows," "Future World," "Halloween," "Keeper of the Seven Keys," "Perfect Gentleman," "Mirror, Mirror" and many more!
SCORE:






Title: FALCONER "Falconer"
Band: Mathis Blad (Lead Vocals & Keyboards), Stefan Weinerhall (Guitar & Bass), Karsten Larsson (Drums)
Web Site: Falconer
Comments: My first impression of this CD was simply, Wow! Falconer is a European Meloderic/Power Metal Band that blew me away upon hearing their first CD with it's music and poetic lyrics. Within this CD, there are songs such as "A Quest for the Crown" - a tale of a King in search for his lost crown from returning back from the crusades with a surprise ending. Other favorites of mine are Upon the Grave of Guilt, Lord of the Blacksmith, Substitional World with it verse near the end ... "The Higher your lucky star rises, the deeper you will fall. Who are you to impersonate God, who are you to know it all?" Well, you will have to purchase the CD to get the rest. I highly recommend this CD to anyone who want to hear music with a complete change of style as I have never heard music sound like this.
SCORE:






If you have any Questions or Comments, Let me Know!