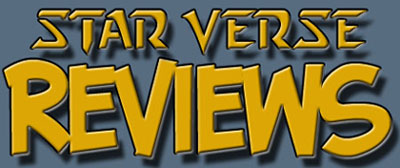 STAR VERSE COMICS PRESENTS ...
RYAN'S REVIEWS
Issue #3
June 2005
Title:
Sanity Impaired Kat
Publisher:
UFO (United Fanzine Organization)
Contact:
kmartin1001@yahoo.com
Written by:
Kel M. Crum
Art by:
Daniel A. Nauenburg
Price:
$1.00 (US) & 2 Stamps
Comments:
When I first opened up this comic to read, I was not too sure what I was going to think about it. At about page 3, I changed my mind. This is a very enjoyable and humorous comic with a cool style of art added, and with 15 pages it is definitely worth the $1.00 (and 2 stamps)! The story itself is based on a Cat (with some mental issues), and a Mouse (with some anger problems) and the cat has a big crush on the mouse whom wants absolutely nothing to do with the cat (besides throw an odd brick at it's skull every now and then). Read and witness within the art if the cat will find true love with it's rodent friend, or will the brick of love get the best of the cat.
SCORE:



1/2
(out of 5)

Title: Cornelia Cartoons #4
Publisher: Dangerous Bird Productions
Contact: kmartin1001@yahoo.com
Written by: Kel M. Crum
Art by: Kel M. Crum
Price: $1.00 (US) & 1 Stamps
Comments: Kel shows off his true humor skills with these three mini stories! The first story, Cornelia's father, who is having problems with his wife and I think women in general, loses his final knife in the drawer (so to speak), and enters in Crutch County Beauty Pageant to get sweet vengeance on his wife and women. Read on and see the Terrorist attempt outside of Syria, and how it effects the Beauty Pageant! The last two stories involve somewhat old/new news related issues and of course have a comedic twist! I also think this book is well worth it's price, and for anyone out there who is a true fan Small Press, go out there and email Kel Crum to purchase his material, it is worth it!
SCORE:



1/2

Title: CHAOS #25
Publisher: Usurp Toe Comix
Web Site: www.members.cox.net/usurptoe
E-Mail: usurptoe@cox.net
Written/Art by: Dave Gilbert
Price: $?? US
Comments: To say the least, Chaos #25 is a fairly interesting but yet different comic compared to what I am used to reading. It does have an "R" rating as there is your share of swearing, but that's alright with me. The story line behind this comic is a little bizarre, as I figure you will have to read some of the earlier issues to completely catch the drift. On the other hand, this comic does show you what the Small Press world is all about. They are funny, fast and get you thinking about everything from politics, the future, to anything in the middle.
SCORE:




-- CD REVIEWS --

Title: IRON MAIDEN: "Dance Of Death"
Band: Bruce Dickinson (Vocals), Dave Murray, Adrian Smith, Janick Gers (Lead & Rhythm Guitars), Steve Harris (Bass), Nicko McBrain (Drums)
Web Site: http://www.ironmaiden.com
Comments: Iron Maiden, the Godfathers of Metal have done it again! This album is a Great listen and is over 1 hour long, which is something you don't see a lot of these days. As listening to this CD, I knew that some songs such as Rain Maker (one of the best Maiden songs that I have heard with a heck of a catchy tune), Montsegur (Bruce does some Great Vocals in this song. It sort of reminds me of the Mercenary from the Brave New World CD), New Frontier (Nico's first song he wrote and a great song at that!), Dance Of Death (this beast of a song is over 8 min. long and has some amazing solo guitar work) & Paschendale (a great tune inspired by trench warfare) would be instant Maiden Classics. This CD has a lot to offer as they pull out some wonderful instrumental notes and solos in almost every track on the Album. When I first bought Brave New World ('2000, and my Favorite Maiden Album), I honestly didn't think they could pull off another CD as good as it was - they proved me wrong. If there is just One CD you were going to buy this year, this should most defiantly be the one!
SCORE:






Title: EDGUY "Hellfire Club"
Band: Tobias Sammet (Vocals), Jens Ludwig (Guitars), Dirk Sauer (Guitars), Tobias Exxel (Bass), Felix Bohnke (Drums)
Web Site: http://www.edguy.nu/
Comments: This band in the past has been Hard and Heavy while keeping a powerful, mystical and musical aspect to the whole thing, and this new cd "Hellfire Club" is no Exception! This CD is a tad over 1 Hour of some of the Best music I have heard in a long time (Not counting Iron Maiden's latest, "Dance of Death")! It opens with "Mysteria," which sets the level to the album as Tobias screams ... "Welcome to the Freak Show!" Hands down, "The Piper Never Dies," is the best song on the CD, and at over 10 min. it sure deserves to be! It's got your story, hard hitting vocals, it's just a great catchy riff of a song! Another Favorite is "King of Fools," which left me singing to it the very first time I heard it. "Navigator" is another classic with the feel of '80 metal blended in with it all. To sum up this CD, if you are any fan of Metal, enjoy well written songs, great vocals, well done guitar and drums mixes, and a Hell of a catchy album that you will be listening to Over and Over again in the car, at home wor where you work, then this CD is most defenety for you!
SCORE:






Title: ICED EARTH "The Glorious Burden"
Band: Tim "The Ripper" Owens (Vocals), Jon Schaffer (Rhythm), Ralph Santolla (Lead), James MacDonough (Bass), Richard Christy (Drums)
Web Site: http://icedearth.com/
Comments: ell, I had to admit that ever since I heard that the former lead singer(Matt Barlow) quit the band and the music business to enter into the world of justice, I though that Iced Earth was simply Dead! As I placed the CD into the player and hit Play, I was honestly a little surprised. The music is not as Heavy and Thrashy as it was in the Barlow days, but it was musical and impressive. "Declaration Day" - my personal favorite on this CD has all the Classic Iced Earth qualities. "When the Eagle Cries" - this song actually blew me away. It's a slow Accoustic Classic about 911! Owen's vocals are impressive as I felt the feeling and almost agony and pain within the music. My other favorite was "The Devil to Pay" - At over 10 min. this is also classic IE! It's got the old fashioned War drums in the intro as it plays a metal version of "The Ants go Marching." You truly feel the energy put into the making of this War Bound song. But in all honesty, after those 3 songs, the rest of the CD does not follow through and to me seemed to fail in what I thought Iced Earth was about.
SCORE:




Title: HAMMERFALL "Crimson Thunder"
Band: Joacim Cans (Vocals), Oscar Dronjak (Guitars/Fire Breather), Stefan Elmgren (Guitars), Magnus Rosén (Bass), Anders Johansson (Drums)
Web Site: http://www.hammerfall.net/
Comments: From the start to the finish of this album, you hear nothing but great solos, vocals and of course the power metal riffs! It all starts off with "Riders Of The Storm" - One of the catchiest tunes on this CD. My personal favorite, "Crimson Thunder" - This song is in my view, HammerFall at their best! It has the beat, the riffs, the powerful choir Vocals during the chorus and everything also you would need for this uplifting Power Song! My other 2 favorites are "Trailblazers" & "The Unforgiving Blade" - With these 2, if you like your music fast, hard/heavy with some great catchy vocals, then I say you should defiantly go out to your CD Retail store and give this album the chance that it deserves!
SCORE:




1/2

Title: BRAINSTORM "Liquid Monster"
Band: Andy B. Franck (Lead/Backup Vocals), Milan Loncaric (Guitar/Back up Vocals),Torsten Ihlenfeld (Guitars/Back up Vocals), Andreas Mailänder (Bass), Dieter Bernert (Drums)
Web Site: http://truemetal.org/brainstorm
Comments: These guys are become true German Metal Masters, and they are doing it fast and powerfully! I have been fans of them since I heard their song "Voices" from the Unholy (1998) album. The song's lyrics and instrumental/musical style just blew me away! Liquid Monsters is no different, as it starts strong with a great tune called "Worlds Are Comin' Through." To me, the best songs on this track are Inside The Monster, Invisible Enemy, Heavenly, Painside. Heavenly, has a great musically acoustic presence to it as I believe it's the first "slower" ballad I'e heard from them. The other 3 song I mentioned just sound cool, especially the chorus on Inside the Monster, it's just the way all sing at once that gives out an eerie effect! My favorite, and the single for this album is "All those Words," which is a beautifully written song - One of the best songs they wrote! With this album, and their last (Soul Temptation), Brainstorm has easily went from a good band that some people heard, to a Great band that it topping the charts all over Europe and getting up there in North America. If you are a fan of great, almost '80's style Heavy Metal with a whole new upbeat feel to it, there is no doubt that you should enjoy this album.
SCORE:




1/2

If you have any Questions or Comments, Let me Know!