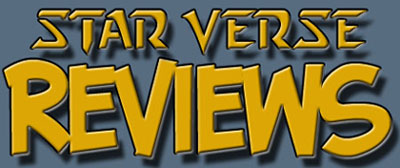 STAR VERSE COMICS PRESENTS ...
RYAN'S REVIEWS
Issue #4
April 2006
Title:
Cornelia Cartoons #5
Publisher:
Dangerous Bird Productions
Web Site:
http://www.dangerousbird.com/
Contact:
kmartin1001@yahoo.com
Written by:
Kel M. Crum
Art by:
Kel M. Crum
Price:
$2.00 US
Comments:
Another nice small press comic by long time runner Kel Crum. In this Issue titled "Cause and Effect," Cornelia is convinced not to watch her new DVD season of Sex in the City, and to instead join the "Protest Gypsies," who quote "Spit in the face of all social norms except Welfare." The comic itself is one of those nice, easy to read and humorous comic books that you should really try to get a hold of. The art is at times a little sketchy, but with all the sarcasm, humor, and enlightenment in this story, it works well, and deserves an honest shot.
SCORE:



1/2
(out of 5)

Title: Cornelia Cartoons #6
Publisher: Dangerous Bird Productions
Web Site: http://www.dangerousbird.com/
Contact: kmartin1001@yahoo.com
Written by: Kel M. Crum
Art by: Kel M. Crum
Price: $$ 1.00 US. & 1 Stamp
Comments: This time Kel is sending the world of American Idol a message with this one titled "Idol Chatter," along with a couple other mini-side stories. Out of all the Cornelia Cartoons I have read, this one just didn't seem to be at the top of Kel Crum's game. Don't get me wrong, I had a few good laughs and fairly enjoyed this comic. But in all honesty, I felt that the humour was just not the same with the sarcasm and political edge, as in all the other titles.
SCORE:




Title: CEN #1
Publisher: Idea to Paper Studios
Web Site: http://ideatopaperstudios.deviantart.com
Written by: Trevor Frick
Drawn/Inked by: Trevor Frick
Price: $1.50 US
Comments: Right off the bat, Cen is one of the most unique and original small press comics that I have seen. From the Main character himself, to all the villains that he faces, this comic has what it takes to win on the battlefield! Trevor Frick (a fellow Canadian), also may have what it takes to keep this title running well into the future. The art, shading techniques and fight scenes is what did it for me in this title. This is defiantly one comic title that your Small press comic collection should Not be without!
SCORE:





Title: CEN #2
Publisher: Idea to Paper Studios
Web Site: http://ideatopaperstudios.deviantart.com
Written by: Trevor Frick
Drawn/Inked by: Trevor Frick
Price: $2.00 US
Comments: In CEN #2, the action gets extreme and more intense! Oh ya, and the villains get larger and uglier. I was really impressed with Trevor's fight scenes in this title, especially the way he uses his manga like speed lines, etc. At this point in the comics, the past of Cen is hazy to the reader, but I imagine that it will be established much more into the future. Cen lands on a spaceship to notice that it has been abandoned, that is when he finds out that there is a massive and ugly alien beast on board. You will have to get the comic, to find out exactly what happens next!
SCORE:




-- CD REVIEWS --

Title: MEGADETH "Blackmail the Universe"
Band: Dave Mustaine (Lead Vocals, Lead, Rhythm, and Acoustic Guitars), Glen Drover (Lead & Rhythm Guitars), James MacDonough (Bass), Shawn Drover (Drums)
Web Site: http://www.megadeth.com/
Comments: The voice with the Gringe and the noise of the axe is back! "Blackmail the Universe" is a solid album, and Mustaine's vocals are still in the game. I personally think that this is their best album out since "Youthanasia." The album starts off with "Blackmail the Universe," which had a storng old-school vibe to it. Then moves on to "Die Dead Enough" and "Kick the Chair" which are 2 nicely written thrashy songs. Throughout this CD, you hear alot of catchy riffs with some bold guitar work along with some crasy soloing. My personal 2 favorite songs were "Of Mice and Men", "Truth Be Told" and my top song had to be "The Scorpion." "Of Mice and Truth," just has a nice meloderic vibe to it as with "The Scorpion," just listening to the song, it was something different and as Dave sings the chorus, I feel that passion within his voice. If you are a fan of music that pumps out raw power, anger, great solos, fast metal and attitude, then I think that you should give this album a shot.
SCORE:




1/2

Title: DEMONS & WIZARDS "Touched by the Crimson King"
Band: Hansi Kursch (vocals), Jon Schaffer (guitars, acoustic guitar, bass guitar), Rubin Drake (guitar, bass guitar), Jim Morris (guitar, background vocals), Bobby Jarzombek (drums)
Web Site: http://www.demons-wizards.com/
Comments: From the milo-seconds of the opening to the saddening end of the CD, this album is Touched with Metal Magic! It is also based on Stephen King's "Dark Tower" book series, consisting of seven books. Hansi (Blind Guardian), sings with the surge of the Gods. His vocals are truely outstanding on this album. Jon (Iced Earth), riffs his way to the top. Some of the greatest riffs Jon has come up with are all in this CD. "Touched by the Crimson King" starts the CD off as this song with it's meloderic mayhem sets the CD off to a Great start. A couple other songs worth a mention, "Beneath These Waves," "Seize The Day," "Dorian," and "Spatial Architects" are worth honerable mentionings. Besides Crimson King, my 2 top songs were "Terror Train," which will Blow you out of your seat and then some! Jon does his Signature Chuga-Chuga's like only he can, and he does them the best in this song. My favorite song on the album is "Down Where I Am." This accoustic ballad is beautiful in all aspects. The lyrics, vocals and melodies are just outstanding in this song. To sum up this album, I personally think that "This" should of been Iced Earth's last release instead of "The Glorious Burden." If you are a fan of catchy riffs, great vocals, Heavy Metal, '80 rock, or just enjoy great music when you hear it, I suggest giving this album a shot.
SCORE:






Title: DRAGONFORCE "Sonic Firestorm"
Band: ZP Theart (vocals), Herman Li, Sam Totman (acoustic guitar, electric guitar), Vadim Pruzhanov (acoustic guitar, piano, keyboards), Adrian Lambert (bass guitar); Dave Mackintosh (drums)
Web Site: http://www.dragonforce.com/
Comments: http://www.dragonforce.com/ Comments: To start off this review, I must say that Dragonforce has sort of created "Extreme Power Metal!" This whole album is sped up to a sickening and breathtaking level that I don't think has been heard before. Sonic Firestorm is melodic, wild and creative all at the same time, and with every song longer than 5 min. each (one at over 9 min.), you get your money's worth! My 2 top favourites and at worthy mentions are "Fury of the Storm," which is exactly that! This song will totally blow you away from it's speed. The other song and my top song, "Soldiers of the Wasteland," which rocks for over 9 minutes! This song has massive solos, catchy riffs and is a well put together song. My only nudge with the album is that fact that if you listen to it in a row a couple times, you realize that some of the songs are sort of repetive. All and all, if you are unsure about purchasing this album, on their website they have the whole .mp3 of "My Spirit will go On." Give it a try.
SCORE:



1/2

Title: DREAM EVIL "The Book of Heavy Metal"
Band: Niklas Isfeldt (vocals), Gus G. (guitar), Fredrik Nordström (Guitar), Peter Stålfors (Bass), Snowy Shaw (drums)
Web Site: http://www.dreamevil.se/
Comments: First and for most, this album (from the seconds of the first song) is one of my most listened to albums. These guys truly know hoe to Rock! If you are a Fan of mega catchy guitar riffs, great sounding solos, classic '80s sound, you will love and respect the title that says it best, "The Book of Heavy Metal!" The CD screams it's way with the first song being "Book Of Heavey Metal, The (March Of The Metallians)." This song is truely great in all metal aspects. I love the lyrics (although some song on this CD do have some silly sections to it), the guitar riff is superb and made me grab my guitar and want to immediately try to play this song. The CD then moved to "Into The Moonligh" and "The Sledge." Both are great sounding song that are very enjoyable. "No Way," at first I wasn't 100% along with the song, that is until he gets in the the chorus, and pulls off a great Ozzy imitation, that not even Ozzy can do anymore. A couple songs that deserve a mention are "The Mirror," "Only for the Night" (which is a remarkable song that would make any Scorpions fan proud), and my personal favorite "M.O.M." or Man or Mouse. M.O.M. is just one of those songs that your hear once and it just sticks to ya! All and all, this is one of the most Complete and Solid Metal albums that I have heard in years. Anyone who wants an instant classic in their collection should definitely pick up a copy of the Book of Heavy Metal!
SCORE:






If you have any Questions or Comments, Let me Know!