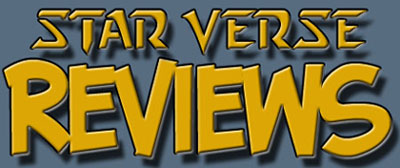 STAR VERSE COMICS PRESENTS ...
RYAN'S REVIEWS
Issue #5
August 2007
Title:
WARHAMMER 40,000: DAMNATION CRUSADE #2
Publisher:
BOOM! Studios
Web Site:
http://www.boom-studios.com
Written by:
Dan Abnett & Ian Edginton
Illustrated by:
Lui Antonio & JM Ringuet
Lettered by:
Ed Dukeshire
Price:
$2.99 US
Comments:
This comic within the WarHammer series from Boom! Studios welcomes you to the 41st Millennium. Issue #2 starts off right in the middle of war! The Space Marines whom fight for The Emperor are in battle with the Necrons, a feared ancient race whose flesh is living metal. This comic is crazy! The art is very well done and the storyline blends in with it rather well. Issue #2 (as like most WarHammer, well ... anything) is about War and Domination over the opponents. As this title comes to a close, and the war with the Necrons is final, it looks like Issue #3 will begin with a battle against the Orks, whose only purpose to exist is to battle as violently as they possibly can! Final words - This comic is Great! It holds everything about the WarHammer name behind it with all of it's might! If you are fans of their PC games (ex: Dawn of War, a strategy game for the PC that won Game of the Year), you will definitely need to add this Gem into your collection!
SCORE:





(out of 5)

Title: CEN #3
Publisher: Idea to Paper Studios
Web Site: http://www.comicspace.com/itpstudios
Written by: Trevor Frick
Drawn/Inked by: Trevor Frick
Price: $1.50 US
Comments: Much like Issues #1-2, the art is solid, the battle scenes rocks, and Cen begins to kicks some serious Bone-Spider Alien Ass! Overall, I think that Issue 2 was a little stronger than this one. The storyline is good and all, and has carried over the 3 comics well, but the art appears to be rushed a little bit or something. Never the less, you should keep this Ongoing series in your collection!
SCORE:




Title: COMIC PULP Vol. 1 - "BILLY COLE"
Publisher: Picture Perfect Press
Web Site: http://www.pictureperfectpress.com
Written/Drawn by: Ted Seko
Price: $6.95 US
Comments: I must say that from start to finish, this comic captured me with grave interest. It has definate potential to stand out in the comic book world as something special! For the price that you are paying for this comic, it is beyond a Bargain! The story is crazy, funny and entertaining at the very least, and the art is very well done (It has that "Sin City" feel to it). And Ted Seko does a great job on getting out the right emotion in the pages. The story is more or less about a baby (just out of the womb) whom rips off his own cord, and then heads out to the real world cold, wet and naked to fight a world of Evil & Crime. Out there, he has a few lesons to learn in the process, but I will leave that up to you to find out what they are! This comic volume is Brilliant! If you are a fan of the Small Press/Indie. Genre or in that case, even a Main Stream freak, I honestly think that there is no one out there who would not like this comic title, and it should be in your collection ASAP!
SCORE:






Title: FILLERBUNNY #3 "MY WORST BOOK YET!"
Publisher: Slave Labor Graphics
Web Site: http://www.slavelabor.com
Written/Drawn by: Jhonen Vasquez
Price: $2.95 US
Comments: To start things off in the right beat, this book is strange. It's crazy. It's Bizarre! Hell, this book rocks! It is the craziest Filler Bunny Adventure yet! The art, is definitely something different, but it works to a tee! The adventure that Fillerbunny goes on, beginning with Fantasy to a cutish little blurb, to the introduction of Aborto (a horrible little blob that sort of looks like a wet newborn kitten or something, just more screwed up)! The best is half way through the comic, when Fillerbunny appears in Colour. Boy, you should see Aborto then. I honestly don't think there is no one out there that will not like something about this title. It has something in it for anyone who is a True Hardcore Indie/Small Press fan ... or, um ... just really messed up!
SCORE:




1/2

Title: FALL OF CTHULHU #0
Publisher: BOOM! Studios
Web Site: http://www.boom-studios.com
Written by: Michael Alan Nelson
Illustrated by: Jean-Jacques Dzialowski & Vatche Mavlian
Price: $3.99 US
Comments: The story for this comic goes deep into the bowels of HP Lovecraft (a publication that came out in 1928). This issue starts you off in the right path for the rest of the series, as it lays down alot of the back story. If you are one whom is not huge into HP Lovecraft, this title may leave you a little in the dust, but do not worry as I am sure that the next issue or two will begin to clear your path! I thought that that was a great title! The artwork has a strong dark feel to it that makes it appropriate to a Lovecraft story. One cool thing to me was that during parts of the comic, I felt as if I was at my PC playing DIABLO II all over again! If you are into HP Lovecraft, a fan of the Horror genre, of just a fan of comics, Boom Studios delivers Big Time with this Issue!
SCORE:






Title: NOVO #1
Publisher: Alterna Comics
Web Site: http://www.alternacomics.com
Written/Drawn by: Michael S. Bracco
Price: $3.00 US
Comments: Right off the bat, I must say that I truly enjoyed the style of artwork! It's uniqueness made the fantasy adventure work well! Novo, a young alien child walks with his mother figure as he searches for pieces of his past. Why he is different, he looks, eyes, etc. The only thing his mother figure tells him is, well ... you should purchase a copy of this comic and find out for yourself! Novo #1 seems to be very promising for a great ongoing series with a lot of adventure, mystery and action, it is a Must for your Small Press/Indie Collection!
SCORE:




-- CD REVIEWS --

Title: STILLSEED "Reborn"
Band: Nick Hennink (Vocals), Denys Lemire (Lead Guitar), Dustin Lemire (Rythym Guitar), Jordan Lemire (Bass), James Stramm (Drums)
Web Site: http://www.stillseed.com/
Comments: This is a very impressive album! I actually was not too sure what to expect at first. I actually bought the CD for the opening song "Solitude," as it is an incredible song! This CD is great! If this fairly new band from Regina, Sk. Canada can keep making albums like this, they will follow the foot steps of success as Into Eternity (also from Regina) has. My two favourite tunes on the CD are Solitue (one of the best Metal tunes that I have heard in a long time!) and Find Yourself (great song, great tune, great riffs/solo). It always shocks me that you always hear the same 3-4 big rock bands on radio stations all day long when there is Stillseed which I personally would rather listen to then all of those "Corporate Bands" on the Radio! If you are a fans of great Music, Aggressive Rock, or anything of that nature, this CD is a Must for your collection!
SCORE:





Title: ROB ROCK "Holy Hell"
Band: Rob Rock (Vocals), Carl Johan Grimmark (Lead Guitar), Daniel Hall (Lead Guitar), Andreas Olsson (Bass), Andreas Johansson (Drums)
Web Site: http://www.robrock.com/
Comments: Right off the bat, this was a fairly solid album! The riffs are strong and put you in you place, and the drums were Great (drummer is ex Halford / Iced Earth). The CD open with my person favorite "Slayer of Souls." It's a Fast, hard hitting metal song, played the way that it should be! "Lion of Judas" was another great song on the album that kept the whole thing running with it's High Vocals through the chorus. The only sort of negative thing I have to say about this CD was "I`ll be waiting for you." It's a nice slow and sad song, but it just didn't seem to fit in with the rest of the tracks. Another great song I forgot to mention is "Calling Angels." From the beginning of the song with it's upbeat and mega-catchy riff to the final moments of the song, even the first time you hear it your foot will be tapping and your head will be banging!
SCORE:





Title: KAMELOT "The Dark Halo"
Band: Roy Khan (Vocals), Thomas Youngblood (Guitar), Glenn Barry (Bass), Casey Grillo (Drums), Oliver Palotai (Keyboards)
Web Site: http://www.kamelot.com
Comments: This is the seventh full-length album for these German Power Metal Rockers, and boy did they deliver with this album! The CD starts off with one of the best Metal songs of the Year, "March of Mephisto" (featuring Shagrath from Dimmu Borgir). Solid riffs, great drumming and amazing vocals. Following is my other 2 favorites titles off this CD, "When the Lights Are Down" & "The Haunting" (Somewhere In Time) – featuring Simone Simons (Epica). Both are just great and classic sounding metal tunes. An interesting this with this CD is that if your really listen to the lyrics, it is very strongly inspired by current/past Political events and Religious debates! Another interesting thing about the CD is how they blend their music with balanced styles of power metal, rich in arrangements, symphonic, and heavily influenced by classical music. Some say that this should of been the Metal Album of the year, and well in some counties it was! I say that if you are a fan of Power Metal or in this case have a love for a new style of Classical Music to say, well this should be in your collection today!
SCORE:





Title: HAMMERFALL "Threshold"
Band: Joacim Cans (Vocals), Oscar Dronjak (Guitars), Stefan Elmgren (Guitars), Magnus Rosén (Bass), Anders Johansson (Drums)
Web Site: http://www.hammerfall.net
Comments: They're Back!! By many around the world, the last album by these Swedish Metal Gods was considered a Disappointment (even by the band)! Everyone was judging them on their Mega-Sucessful album "Crimson Thunder" and wll that album seemed to set them back years. The second I poped this CD into the player and hit play, I grew in instant Grin! This is a great Power Metal CD. This CD flew to #1 very quickly in the Swedish charts. It starts off with "Threshold," a upbeat and fast/catchy little tune. "Rebel Inside" is one of my favorites on this CD , infact one of my favorite Hammerfall songs! It has a strong sad & slow feel to it, but they know how to use emotion to their advantage with this title! "Dark Wings, Dark Words" was another favorite of mine. It was well put together and all with some great guitar work, but the story/lyrics in this song is one of Hammerfall greatest! This is one of those albums that I could probally keep going on and on about, but I honestly think that if you re a fan of True Metal, or loved/miss the sound of the 80's well, this will take you back!
SCORE:




1/2

Title: IRON MAIDEN "A Matter of Life and Death"
Band: Bruce Dickinson (Vocals), Dave Murray, Adrian Smith, Janick Gers (Lead & Rhythm Guitars), Steve Harris (Bass), Nicko McBrain (Drums)
Web Site: http://www.ironmaiden.com
Comments: Possibly their Best album Ever! 27 years into the Business and 14 studio albums later, the God-Fathers of Heavy Metal are Still on the Top of their Game, even Better! From all 70 minutes of start to finish, this is a brilliant CD and by far their most complex! It is definitely a little different then their usual Maiden albums, but the songs have Matures from being fast and catchy Galloping rhythms to 10 min. long Metal Classics that take advantage of amazingly timed melodies, superb harmonics to vocally the strongest album to date! The 2nd track "These Colours Don't Run" is one of my all time favorite Maiden songs. The catchy riffs, the darkness heard within the guitarists, etc. "Brighter than a Thousand Suns" is another great song (yet again at over 7 mins.) It is about the Atomic Bomb and the death that it caused. It's got one of the strongest riffs in the cd and will have you banging your head within seconds of hearing it. "Reincarnation of Benjamin Breeg" is a different song as it felt very Led Zepplin inspired, none the less it is very catchy! It's hard to talk about this CD as there are so many different new things that they have done that I could go on for days! One final song I will mention is "Legacy." The final song on the CD (standing around 10 mins.) begins with a slow acoustic intro. As the song progresses, so does the strength within this song. The guitars are Brilliant, the solos are great, the drums and Steve Bass is a good as always - I personally think this is one of the strongest Maiden songs made to date! Simply say ... If you don't have this CD, buy it!
SCORE:






If you have any Questions or Comments, Let me Know!