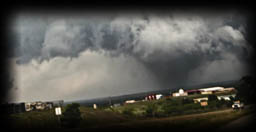 - PREVIOUS CHASE YEAR DIARIES -








ARTICLE (April 13) - More Cameras for Sask. Highway Hotline

* When I am out Live Streaming, it will Broadcast live directly to the site & both my Twitter and my Facebook page.


* All my Videos can be found on my YOU TUBE channel.



- CURRENT CHASE YEAR DIARY -




Fri. July 28
Severe Warned Storms between Weyburn - Yorkton SK
This day became a little frustrating as it got warmer and warmer (up to +34 and muggy as hell) and around 4:30 pm, there was just one pixel on radar around Lipton Sk, which I was siting under lol.
After talking to a few fellow chasers, decided to head South where storms were beginning to develop.
As I was about 1/2 way to my new target, storms began to also form, right on the boundary - aka - where I was sitting haha, oh well!
Over all, the day was ok, all the storms were very high based and not very photogenic.
I did catch an Intense down burst west of Weyburn, where a local told me they got 1 3/4 rain in 45 mins!
From there I headed back home where on radar, a strong slow moving cell was forming and heading towards Melville, and Yorkton.
The storm produced roughly toonie sized hail , some strong winds and a great lightning show!

A few PHOTOS of the day: (MORE TO COME)
Photo 1 | Photo 2 | Photo 3 |

HIGHLIGHT VIDEO - IN THE WORKS




Fri. July 21
Tornado Warned storm between Grenfell - Moosomin SK
Fun chase day!!! Glad to have my Dad with me finally for a good storm!
This day's forecast, I called for 2 storms:
1) Foam Lake - Yorkton
2) Grenfell and East on Hwy1
Both had Tornadoes, and formed how I predicted :)
After a small Chaser Convergence at a Co-op in Whitewood, the storm began to fire up and away everyone went!
Overall, quite a fun day, and a treat that I had my Dad with me! Seen a funnel cloud or 2, multiple Wall Clouds, had some hail and some great structure!
I was also "at" the storm that produced a Tornado North of Broadview around 5:40 but from our angle couldn't really see it unfortunately.
As the storm began to enter into Manitoba, we were running low of gas (and I forgot my gas can) ... all the towns had no power so we had to head north to find a town with power to get gas and ended the chase day.

A few PHOTOS of the day: (MORE TO COME)
Photo 1 | Photo 2 | Photo 3 | Photo 4 | Photo 5 |

HIGHLIGHT VIDEO - IN THE WORKS




Mon. July 10
Severe/Tornado Warned Storms between Francis - Estevan SK
Overall all fun yet frustrating chase day! It was one of those day that all the models were perfect, until the morning of .... then everything changed! The option now was a North West Storm (Saskatoon area) or the South (Estevan). I had to work the next day so I chose the South lol.
As we sat (we met up yet again with Jordan Carruthers aka Manitoba Storm Spotter: Storm Chasers as well as Jenny Hagan at Indian Head waiting, the storms began to fire up at Radville and away we went!
Seen some decent towers and structure as well as a couple long and fast funnel clouds between Osage and Filmore.

A few PHOTOS of the day: (MORE TO COME)
Photo 1 | Photo 2 |

HIGHLIGHT VIDEO - IN THE WORKS




Wed. July 5
Tornado Warned Storms between Whitewood SK - Cromer MB
This was a fun chase day!!!
Began the day sitting at a gas station in 32+ C weather , nervous that the "cap" was going to win yet again!
5:50 pm, a nice cell that formed fast over Whitewood SK and that was Game on!
Witnessed and reported 2-3 Wall Clouds, a couple funnel clouds, Loonie - Ping Pong Ball sized hail (where we were - a little South West had Baseball sized) and some impressive structure!
Also got to finally meet and team up to chase along side with Jordan Carruthers aka Manitoba Storm Spotter: Storm Chasers & Justin Oertel whom runs Manitoba Weather Centre.

A few PHOTOS of the day: (MORE TO COME)
Photo 1 | Photo 2 | Photo 3 (Funnel Cloud) | Photo 4 | Photo 5 | Photo 6

HIGHLIGHT VIDEO




Tues. June 12
Tornado Warned Storm between Wheatland, Wyoming - House, Nebraska
What a memorable chase day it was!!!
For me it started Sunday June 11 at around 11 am. I woke up (and remember Saskatchewan Canada lol) that day planning of continuing photo and video editing from my USA chase trip. Around 11 am I chatted briefly with good chaser friend Craig Boehm, in which in about 20 mins later and looking at weather models.... I grabbed my gear and was out the door, heading towards Sturgis South Dakota!
I got there around midnight to 1 am. Found an Insanely overpriced hotel (which they all are) but I needed one lol!
Woke up the next morning did some models, chose a target, chatted with Craig some more ad then headed to Lusk Wyoming to start this crazy chase day! (roughly 1pm)
Holy crap what a day!!!! Pretty much right off the bat, I Core Punched the storm near Wheatland as it looked on radar like a Tornado was possible to form on the other side of the storm, and HOLY CRAP was there hail!!!!!
It looked like comets falling from the sky, then hitting the earth and exploding on impact!
I heard Softball to grapefruit sized hail was reported!
The truck looks like (and it sounded like) someone took a baseball bat to it lol!
From there I ran into Michael Phelps on the other side as we witnessed an insane Wall Cloud forming!
The journey continued though all this horrible road network (and heavy construction) seen a couple more wall clouds and possibly a tornado (will have to go though footage and compare with data and other chasers from the area. I also had zero data service at this time)!!!!
I then played catch up a little after getting though some crazy ass sketchy back roads (that were literally split open in the middle) and then headed to Nebraska to continue!
Caught some literally breathtaking Mammatus Clouds, some wild lightning and then continued to chase throughout the night!
Around 10:30 pm just East of Harrison, I witnessed some AMAZING storm structure with the stacked Shelf Cloud that was moving in!
Shortly after that it became tornado warned!
I ended up finally getting a hotel and finishing my chase around Wed at 1am!


A few PHOTOS of the day:
Photo 1 (Hail Dents) | Photo 2 |
MORE TO COME SOON

HIGHLIGHT VIDEO YET TO COME




Tues. May 30
!!! STORM-FINDER version 3.0 - REVEALED !!!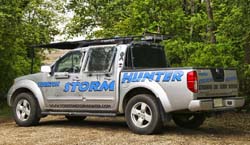 Special Thanks to HAAS NISSAN (in Yorkton) for the Sponsorship!! and to Auto-Trim Signs for the awesome Decal work!!

STORM-FINDER with Brandon Crane (Mechanic/Engineer/Driver/Team Member/Chase Brother) & Myself posing with the Beast

GALLERY of the work in progress.






Sun. May 18 - Mon. May 26
STORM HUNTING in the USA

I headed to the USA and Storm Hunted with Michael Van Der Hoek & Artur Pyzalski via the Alberta Chase Team, SHEAR WX.
Follow them on TWITTER


Traveled 12,000 kms in 10 days!


C O L O R A D O
Between Last Chance, Fort Morgan & Akron (May 26)
Chased between Last Chance, Fort Morgan & Akron Colorado, and what an adventure it was!
We started off heading towards Limon as the storms began to form just to the South of Denver. We decided what direction and where it will be heading, and settled on Last Chance!
Around 4:15 we were on a Tornado Warned storm that was producing some incredible structure and scenery!
Around 5:40pm we were on the cell, but just South of Yuma where it was showing some nice rotation on the velocity scan. That is when this storm began Gustnado Farming! Gustnadoes everywhere! Lost count in the 20's!!! What just fantastic to watch!
But then we turned around ....
What's that over there? A wall cloud behind us???
Around 6:40, we then headed towards Arkon where we witnessed some of the best storm structure I've seen to date!!!!
We ended the night with some of the most beautiful Mammatus Clouds I've ever seen to date!
Thank you Colorado!!!!


A few PHOTOS of the day: Yet To Come
??? |

HIGHLIGHT VIDEO YET TO COME




C O L O R A D O
Torando Warned storm between Wray CO - St. Francis KS - Idalia CO (May 25)
We started our day off in Colby Kansas and headed towards our target of Wray Colorado. By 2pm the storms were building quite nice as they were just reaching Yuma. 3pm were were just South of Wray and seeing some nice structure! We followed the storm back to Kansas (South of St. Francis) where some rotation was showing up on radar! While there, also experienced a great dust/wind storm haha.
Around 3:30 we were in a great spot and watching some angry rotation to both the North and East of where we were sitting!
Roughly 3:40, while driving, caught a very quick glimpse of what looked like rotation on the groud from a funnel we were watching - later found out it was a reported Tornado.
By 4pm we were back in Colorado and still on a great Tornado Warned storm!
5pm we were seeing a great Mammatus display, but this also became the end of out chase day as the back roads we were on, pretty much turned to, and im quoting a technician here, "snot!"
The roads became so bad that it took us well over an hour to get a few km's and by the time we got back to the highway, the storm was too far our of reach to catch up.

A few PHOTOS of the day: Yet To Come
??? |

HIGHLIGHT VIDEO YET TO COME




NEW MEXICO
Between House - Santa Rosa (May 22)
This was a fun chase day! It started off with us sitting at a gas station in Elida around 11:30 am waiting for the storms to produce when I had the absolute honor to run into Australian Storm Chasing & Photography Icons Brad Hannon & Marko Koroec!!!
The storms fired up fast and early this day! 12:00pm they were already showing up on radar nicely and by 1:30 we were making our way to Fort Summer to meet the storm!
We witnessed some insane Mammatus Clouds and some nice structure throughout the day! Around 4:00pm we had a choice between 2 different storms. One heading towards Santa Rosa and the other South of Fort Summer. We seen a few chasers heading to the South storm so we decided to go North as nobody was on it.
The South storm turned very photogenic as the imaged began to popup on social media. Ours definitely wasn't the right play but we ended up getting some gorgeous photos of the storm in the background with the sunset and more Mammmatus clouds, with a windmill in the foreground to end the day.

A few PHOTOS of the day: Yet To Come
??? |

HIGHLIGHT VIDEO YET TO COME




NEW MEXICO
Between Hope, Carlsbad, Roswell & Clovis (May 21)
This day .... this day was tough for forecast! The Night before, the models looks quite nice right around Alamogordo. The next morning, not the same story! In fact, everything was pretty much gone! So I got up and checked and checked and checked models and was certain that there will be "something!" I even told the Shear WX team that If I was wrong, I would buy their supper haha!
The chase begins, towers form, hit about 30,000 feet echo tops ... and then just die. Another tower, died. Another tower, died. Nothing was breaking the cap!
This is about when I started to hunt the pixels, desperate NOT to buy the guys supper, haha!
Found another storm, died.
Finally around 7:30 pm, we began to see some breathtaking structure and Mammatus Clouds near Elida! Along with that was a beautiful Anvil cloud forming to our North!
We ended up catching up to it and got some great night time lightning shots!

A few PHOTOS of the day: Yet To Come
??? |

HIGHLIGHT VIDEO YET TO COME




T E X A S
Between Jayton - Aspermont (May 19)
Overall had a fun day! Seen some great structure, a beautiful Shelf Cloud and a couple Wall Clouds west of Swenson Texas!

A few PHOTOS of the day: Yet To Come
??? |

HIGHLIGHT VIDEO YET TO COME




C O L O R A D O
Rocky Ford - Timpas (May 18)
We started our 22 hour drive from Olds Alberta and drove to our Colorado Target!
The drive down itself was an adventure as we drove through flash floods (which put vehicles in the ditch) as well as a snow storm (both in Wyoming)!
There was great storm potential in Kansas on this day, but after our long drive we decided to play safe and go after the lower risked area.
It payed off!
Very shortly into the chase we caught a Tornado that was also confirmed by the NWS which was awesome!
From there we seen some beautiful structure ending our first chase day!


A few PHOTOS of the day: Yet To Come
??? |

HIGHLIGHT VIDEO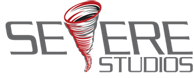 just a reminder that anyone can watch my Live Stream through ...
Severe Studios.com

Direct stream (full page) - LINK
or
Zoom Radar

WATCH on your Mobile Devices with these Apps (both on Andriod & Itunes and are FREE):
ZOOM RADAR STORM CHASERS:
Android | iTunes

MYRADAR Weather Radar:
Android | iTunes

Severe Studios app currently in development!